SBU Wiki Team

Joined: Sun Aug 30, 2009 7:01 am
Posts: 31
Encoding DTS Streams for DVD Authoring (using SurCode DVD Pro)
Quick Links:
SOFTWARE REQUIRED
NOTE: There is currently NO FREE SOFTWARE available to encode DTS audio files. All software listed below is commercial software.
FILE FORMATS and NAMING CONVENTIONS
Music on DVD is created with files at 24-bits/48,000Hz (a.k.a. "24/48"). DTS encoders 'encapsulate' the data of many files into one 'stream' file meeting the requirement of DVD specifications. The files you use to encode these audio streams should be prepared to meet this standard. Here is a general run-down of requirements for your .wav files, and how your individual mono .wav files should be prepared.
1 or more mono .wav files are required. SurCode DTS encoders will accept up to 6 files (Lf, Rf, C, LFE, Ls, Rs), whereas the Pro-Series Encoder and the DTS Surround Audio Suite will accept up to 8 files for 6.1 and 7.1 Surround encoding (not covered in this guide)
Individual mono .wav files should all be of equal length and bit-depth
For best results, individual mono .wav files should be saved at 24/48 (24-bits, 48,000Hz)
You can load 16-bit, 20-bit, 24-bit or 32-bit files into SurCode DVD and the program will still create a suitable DVD Compliant .dts output file! (but remember, it is suggested to use 24-bit mono .wav files)


Individual mono .wav files output from another program should be saved and named appropriately to make it easier to remember what you are working with. All files must have a unique name and a .wav extension
For compatibility with all programs, avoid using spaces in your directory names and your file names
Use a simple numbering method to keep your files in the order of channels to be encoded
Here is an example list of 6 files output from Plogue Bidule that will be encoded:

01_Audio_2448_0.wav (Front Left)
01_Audio_2448_1.wav (Front Right)
01_Audio_2448_0.wav (Center)
01_Audio_2448_3.wav (LFE)
01_Audio_2448_4.wav (Surround Left)
01_Audio_2448_5.wav (Surround Right)

-or-

01_Audio_2448_FL.wav
01_Audio_2448_FR.wav
01_Audio_2448_C.wav
01_Audio_2448_LFE.wav
01_Audio_2448_SL.wav
01_Audio_2448_SR.wav

There are 6 files in a normal 5.1 audio stream, one for each playback channel, however, you can choose to not use the LFE channel and only have 5 files. In this case you should still use the naming convention of *_04.wav and *_05.wav (or *_SL.wav and *_SR.wav) for the rear channels (if you don't understand why, don't worry about it. You'll understand later!)
You can encode a 'Quad' dts stream by loading only the 4 required channels, FL/FR/SL/SR. Likewise, you can encode a 3-channel "front only" dts stream by loading only the FL/C/FR channels. With SurCode DTS Pro you can create DTS streams consisting of anything from "1-channel mono" in the Center channel only, up to 5.1 channel surround

NOTE: Different programs will automatically output different filename formats similar to those shown in the example lists above. Some programs start output at number 0 thru number 5, others start output at number 1 thru number 6. It's up to you to make sure they're named properly for each individual channel. While you're outputting your files from the other program, remember to try avoiding the use of spaces and special characters. If your program does not include the "_" underscore character before the channel identification in the file name, it's a good idea to include the "_" underscore as the last character of your output file name (like "01_Audio_2448_.dts") so that your files are easier to read and locate by filename alone! (Steinberg Nuendo is one such program that does not append the "_" underscore character before appending the channel identification prefix to the filename)
THE ENCODING PROCESS
The encoding process is quite simple! This guide was written using Minnetonka's SurCode DVD Pro. The workflow is similar with other softwares, so if you find a step to be different here, don't worry! If you use either the DTS Pro-Series encoder, or the DTS Surround Audio Suite, additional help is available in the manuals provided with the purchased software.
Screenshot of SurCode DVD Pro: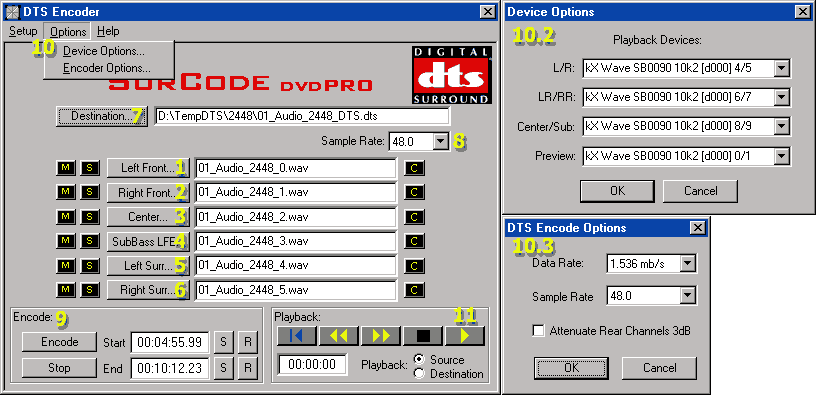 Click the [Left Front...] button, locate and select your mono .wav file for the Left Front channel, then click the [Open] button
Click the [Right Front...] button, locate and select your mono .wav file for the Right Front channel, then click the [Open] button
Click the [Center...] button, locate and select your mono .wav file for the Center channel, then click the [Open] button
Click the [SubBass LFE...] button, locate and select your mono .wav file for the LFE channel, then click the [Open] button


NOTE: If you choose to NOT use the LFE channel, do not load this file! If you have already loaded the file, but the .wav file contains no audio, you can click the [C] button (directly to the right of the filename field) to clear the selection. It is suggested to leave this filename field blank if you do not have audio data in the LFE channel

Click the [Left Surr...] button, locate and select your mono .wav file for the Left Surround channel, then click the [Open] button
Click the [Right Surr...] button, locate and select your mono .wav file for the Right Surround channel, then click the [Open] button
Click the [Destination...] button, then locate a directory or folder to save your output file.

In the [File name] field, enter a name for the output file, identifying it as a DTS file and ending in ".dts", such as "01_Audio_2448_DTS.dts" (try to remember to not use spaces or special characters)
Make sure the [Save as type] drop-down is selected on [DTS Padded (*.dts)]

(NOTE: Some DVD authoring softwares will accept ".cpt" streams, or "Compact DTS" files. Untill you are familiar with the entire process AND the capabilities of your DVD Authoring software you should not choose this filetype)

Click the [Save] button

Make sure the "Sample Rate:" option is set to "48.0"
If you are ready to encode, press the [Encode] button!

To encode the entire set of files from start to end, make sure the "Start:" time is set to 00:00:00.00 and the "End:" time is set to the ending time of the file(s).
To reset the "Start:" or "End:" time, press the [R] button to the right of the appropriate time field
To encode only a portion of the files (such as a single track from a full-length CD) you can optionally set the "Start:" and "End:" times by typing in the appropriate time value. In this scenerio, be sure to not miss any samples by always including the same sample in the "End:" time when you set the next "Start:" time. For example, if Song 1 starts at 00:00:00 and ends at 00:04:55.99, then the next song (Song 2) would start at 00:04:55.99 and end at a later time such as 00:09:22.49 ... then the next song (Song 3) would start at 00:09:22.49 and end at a later time (and so on).
If you have already setup your [Preview] option in the [Device Options] (10.2 below) then you can listen to a stereo preview to select the correct time for starting or ending an encoding. While listening, press the [S] button to the right of the "Start:" or "End:" fields to set the time of that field
If you are encoding individual songs from a full-length CD (or from files loaded that include multiple songs) then you MUST change the destination song name BEFORE pressing the [Encode] button, otherwise your previously encoded material will be overwritten!

To setup the [Device Options] or [Encoder Options], click [Options] from the top menu

10.2: [Device Options]: This area is where you setup the Playback Options related to your soundcard. Some soundcards do not properly expose their output channels and therefore cannot be used to playback the encoded/saved output file.

Set the [L/R] option to use your Front Left and Front Rear speaker channels
Set the [LR/RR] option to use your Surround Left and Surround Right speaker channels
Set the [C/LFE] option to use your Center and LFE speaker channels
Set the [Preview] option to use your Front Left and Front Right speaker channels. The [Preview] selection is used to preview a stereo playback and is not meant for hearing surround output.
Click the [OK] button after changing any of these options

NOTE: Not all soundcards (Creative, for example) will expose the stereo pairs for surround playback. In some cases you can use alternate drivers for your soundcard to expose these pairs. If your card does not expose the stereo pairs, do not worry, you just won't be able to preview the encoded playback directly from SurCode

10.3: [Encoder Options]: This area is where you setup the encoding options for creating the DTS stream. For normal DTS audio streams you can use the following options:

For best quality, the data rate should be set to "1.536 mb/s"
To fit more songs on one DVD you can sacrifice some quality by selecting the lower bit-rate of "768 kb/s" NOTE: Many people claim they cannot here the difference of the lower bitrate, however, other people with high-quality audiophile sound systems will say that they DO hear a difference. For optimal playback results you should NOT use the lower quality bit-rate setting
The "Sample Rate" should be set to "48.0" (DO NOT set the data rate to "44.1" or your DTS stream will not be accepted by a DVD authoring software!)
The "Attenuate Rears 3dB" option, if checked, will reduce the level of the rears by -3dB. This option is generally left un-checked and should only be used if your final mix contains rear channel levels that are too loud and you want to re-encode the files without altering or re-creating the mono .wav mixdown files
Click the [OK] button after changing any of these options

The [

>

] playback button is used in the following manners:

If you have setup your [Device Options] (10.2 above) then you can either listen to a stereo preview before encoding by selecting the [Source] option for playback. While listening, you can press the [S] button to the right of the "Start:" and "End:" time fields to set either of those fields to the currently displayed playback time.
If you have finished encoding a file AND you have setup the [Device Options] (10.2 above) for surround playback on your sound card, then you can choose the [Destination] option to playback your encoded stream in surround before importing the stream to a DVD authoring software
Use the Playback controls to perform the following operations:

[

|<

] Skip-to-Start of audio
[

<<

] Rewind audio playback
[

>>

] Fast-Forward audio playback
[

[]

] Stop audio playback
[

>

] Play audio (or Resume Play)
AUTHORING A DVD
Once you have finished encoding your files, you're ready to import your .dts streams into your DVD authoring software, then author a DVD for playback on a Home Theater System or other surround capable playback system. This guide does not cover the authoring or burning of DVD's, so you'll need to visit another guide:
Guide:
How to author a simple Music DVD
(not available yet)
Guide:
How to burn a simple Music DVD (VIDEO_TS)
(not available yet)
Similar Guide:
Encoding DTS .WAV's for DTS CD's (Using SurCode DVD Pro)
Similar Guide:
Encoding MLP Streams for DVD-Audio (using SurCode MLP)
Click Here for Comments, Feedback & Discussion
Change History:
2009-09-12: Initial Guide Published
This Guide is Copyrighted © 2009, SurroundByUs.com