Plogue Bidule - Monitoring Surround Output on your PC
This is a basic guide explaining a generic setup for Live Surround Output Monitoring on your PC from within Plogue Bidule. It is assumed that you already have a basic understanding of how to add/remove groups in Plogue Bidule.
It should be noted that NOT ALL soundcards will support this live monitoring output!
Quick Links
Basic Requirements
Plogue Bidule
A Multi-Channel SoundCard

Your SoundCard must be exposed to the Windows DirectSound drivers
-OR- Your SoundCard can also be exposed to the ASIO output drivers

4 or more speakers attached to your PC
-OR-
4,5,or 6 Ananlog Outputs connected from your PC's SoundCard to your HTS Amplifier. (Unless your soundcard does DTS encoding on-the-fly, or DolbyDigital

encoding

on-the-fly, then you MUST use spam outputs connected from your soundcard to your amplifier, otherwise you will only hear static noise. This guide is meant for PC's with 4 or more speakers attached directly to the soundcard and does not cover output from the soundcard to the HTS amplifier)
Before you try adding a device, first make sure your DSP Preferences are set to the correct settings. You can check this by [Right-Click]'ing a blank area of the Plogue Bidule application area and choosing [Edit]>[Preferences], then select the [DSP] tab. (NOTE: If the [DSP] tab is not visible, click the [>] right arrow and scroll to the next available tabs.)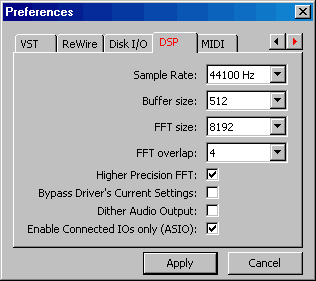 Suggested first-time DSP settings for Live Monitoring are shown in the preferences image above.
You should first use the highest value for [Buffer size], and lower than normal values for [FFT Size] and [FFT overlap]. This is suggested in the case that your soundcard consumes too much DSP processing power and hangs your PC. (most likely your PC is not frozen if this happens, it just becomes extremely slow to respond. If this does happen, try to change the master processing mode to [OFF] by clicking it ONE TIME and waiting. (It will most likely say [on] and appear in the unlit stage until it responds, then it will change to [off] and become lit, allowing you to work with the program. Your first step after such a hang is to check the DSP preferences to make sure they are not set in a manner that might produce DSP processing overload)
After successfully monitoring output on your PC's surround speakers thru all channels at tone time, then you can change your DSP preferences again and increase any values that you might have reduced. Just remember that lower buffer values, or higher FFT values when using layouts with Spectral bidules, may overload DSP processing and cause poor performance.
The Basic Plogue Bidule Layout
Starting with any basic layout in Plogue Bidule, you should have a minimum of 3 items on your screen:
A File Player
A Processing Group
A File Recorder

Selecting Your Output Device
You can use one of three types of output devices:
A Windows DirectSound Output Device (*Recommended)
A Compatible ASIO Output Device
A Compatible Duplex Device
Select your output device by [Right-Click]'ing your mouse on a blank area of the Plogue Bidule application area, then choose [Devices]>[Output]>[Windows DirectSound]>[
Your Audio Output Device
].
(See notes below for adding a Duplex Output Device)

You might need to experiment to determine which listed device is the correct one to use! Usually the device is named something similar to the name of your soundcard, however, if you use third-party drivers (such as kXAudio or ASIO4ALL) then your device might not be listed properly -OR- it might be listed but not work as expected. In these cases of third-party driver usage it is suggested that you select the third-party driver name instead.
If you use ASIO4ALL drivers
then you'll probably have to select the ASIO4ALL
Duplex
Device by [Right-Click]'ing on a blank area of the Plogue Bidule application area, then choosing [Devices]>[Duplex]>[ASIO]>[ASIO4ALL]
NOTE: When using a Duplex Device
there will be 2 items added to your screen:
The Duplex Input Device (usually connected to the Line-In on your soundcard)
The Duplex Output Device (usually connected to the output processor on your soundcard)
When adding a Duplex Device, only the Duplex "Output" Device is necessary. The Duplex "Input" device can be deleted from the screen after you add the pair of any Duplex Device.
Connecting The Output Device
The first thing you should do now is: Put the Audio File Recorder in "Bypass" mode by [Right-Click]'ing the Audio File Recorder and choosing [Processing Mode]>[Bypass]. (An indicator will appear to show that it is set to "Bypass" mode)
Position your Output Device on the screen, either to the Left or Right of the File Recorder, leaving room for any indicators (such as the Processing/Bypass/Disabled Mode Indicator).

Connect the output pins from the last processing group (or from individual stereo processing groups in some cases, such as a [FL/FR] group, a [C/LFE] group, and a [SL/SR] group). Not all output devices operate the same! You will need to experiment to determine what order to connect the output pins from the last processing group(s) to the input pins of your Audio Output device.
Here is an example of a processing group with 6 output pins connected live monitoring output device with 6 input pins:

At this point you should be able to load a file into the File Player, then press the [>] Play button. If you do not hear any playback AND the playback timer is increasing normally, try these suggestions:
Make sure the master Processing mode for Plogue Bidule is set to [on]
Make sure your speaker volume is on (Start at a low volume and gradually increase the volume)
Make sure your Windows audio settings, specifically the master audio volume or Wave Out, is not set to [Mute]
Try connecting different processing output pins to different Output Device input pins (be sure to delete existing wires/connections before re-connecting a new wire from any processing group output pin to the Output Device input pin
Try another Audio Output Device
Try an ASIO Audio Output Device (if available)
Try a MME Audio Output Device (if Available)

If your audio plays on all speakers, but at a different speed, check the Plogue Bidule DSP Preferences to make sure that the Sample Rate is the same value as the input file sample rate! (ie: set on 44,100Hz with a 48,000Hz input file!)
Removing the Audio Output Device
In order to record using the File Recorder, it is necessary that you remove any existing Audio Output Devices that you have added. Since Audio Output Devices cannot be put into a "Bypass" or "Disabled" mode, it is suggested that you delete the Audio Output Device by [Left-Click]'ing the device to select it, then press [del] on your keyboard.
After the Audio Output Device is removed, you can then set the Audio File Recorder group to "Processing" mode by [Right-Click]'ing the Audio File Recorder and choosing [Processing Mode]>[Processing]. The layout should then look like it did before adding the Audio Output Device.

TIP: After you successfully learn how to setup Plogue Bidule for Live Monitoring on your PC, you can save the .bidule layout with your Audio Output Device as part of the layout! ... It is suggested that you save the .bidule layout with a suffixed name so that you can later determine which layout contains only the Audio File Recorder, and which layout contains Your Audio Output Device. (Example: If the layout is originally called "2-to-6_Processor.bidule", and you have successfully added a live monitoring Audio Output Device, then click [File]>[Save As], navigate to the "Plogue\Bidule\Layouts" folder, then in the [File Name] field of the [Save As] dialog window, change the file name to something like "2-to-6_Processor_ASIO4ALL.bidule", or "2-to-6_Processor_kX-Monitor.bidule", or whatever name you choose. Just remember to NOT replace the original .bidule layout file!
Click Here for Comments, Feedback & Discussion
Change History:
2009-09-12 - Guide originally published
2009-09-12 - Initial edits and corrections (Added notes about Duplex Devices and ASIO4ALL)
This Guide is Copyrighted © 2009, SurroundByUs.com