Use
AudioMuxer
(Audio Conversion in the Tools menu) to convert a DTS or DTSWav file to mono wav files, one for each channel.
Alternatively, you can also use a tool like Tranzcode to obtain the same type of result (instructions here below).
Click Here for Comments, Feedback and Discussion
Download
Tranzcode
and GUI from here
http://www.digital-digest.com/software/download.php?sid=372&ssid=0&did=1
. Click on the "Click Here To Download" button and extract the file to a directory of your choice.
Go to that directory and run
TranzGUI
.
To keep things simple, first select to which format to transcode, i.e. 1 stereo wav or 6 mono wavs (see 1.) and then click on the "Input" button (see 2.) to select the file to convert.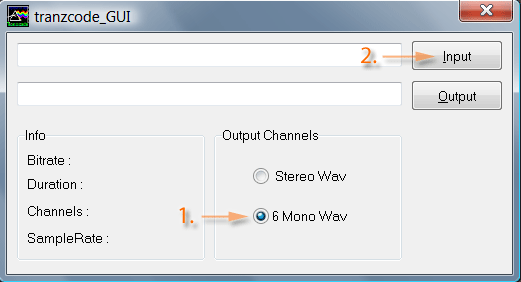 The file type in the drop-down box can be DTS or DTSWav. Both format types are selected by default.

Click on the Output button (see 1.) to indicate the directory where the output will be saved. Select Run (see 2.) to start Tranzcode (in a separate DOS window).
For the stereo wav option, the output will be 1 stereo wav file in 16 bit in 44.1kHz or 48.0kHz, depending on the input file type DTSWav or DTS. For the 6 mono-wav option, the output will be 6 mono wav files in 32-bit float in 44.1 or 48kHz.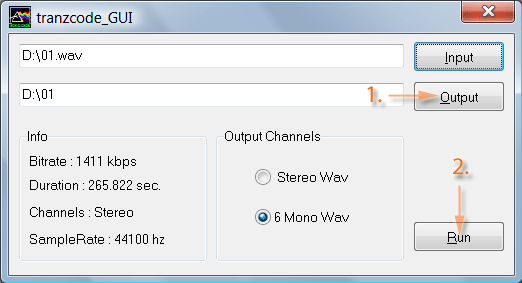 The example above will give the following output: 01-FL.wav, 01-FR.wav, 01-C.wav, 01-LFE-wav, 01-SL.wav and 01-SR.wav for the Front-Left, Front-Right, Center, Low-frequency ("Bass"), Surround-Left and Surround-Right channel, respectively.
Back to the
Wiki Index
Click Here for Comments, Feedback and Discussion
History
2009-09-14 : Initial Version published in Wiki (Pl4yitLOUD)
2010-08-01 : Reference added to
AudioMuxer
(Pl4yitLOUD)
This guide is Copyrighted © 2009-2010, SurroundByUs.com